June 18th, 2009
I am very pleased to bring you the first customer project report! For convenience, here are a couple of pictures: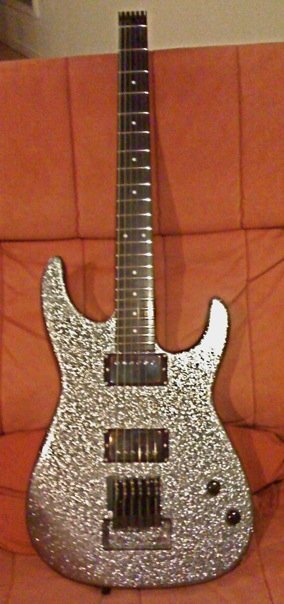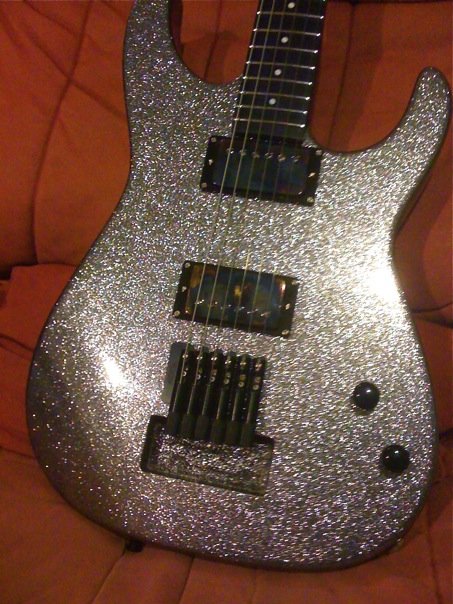 Looks fantastic Jesse, congratulations, and thanks for sharing your experiences.
Here are the words of Jesse in Oz:
I got my guitar back yesterday; it's wonderful. I've nothing but praise for every aspect of it. The bridges worked out wonderfully. Apparently there were some issues grounding them (anodised aluminium being non-conductive) and mounting them properly (routing would have been a pain, so they drilled an extra screw in each of them and flat-mounted them), but it has worked out very well. The tuners aren't sticky like some headless tuners I've tried and I like the precision. Some photos follow:

The light bridges really helped bring the weight of the guitar down (it's about 2 kg). I can't thank you enough for providing such a great product .

Take care,
Jesse
I shipped a couple more units today, making the customer map look like this: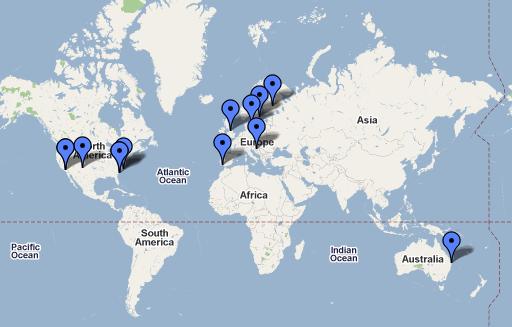 I intend to follow up with the builders of Jesse's guitar to sort out the grounding issues so that any necessary design updates can be made.
June 12th, 2009
As advertised previously, I have been working on converting a knock-off Les Paul Special (kind-of) to a headless design. Since the subject in question is actually not playable (neck is bent beyond repair), I have not attempted to make it a nice looking instrument. Instead, I am merely trying to illustrate some of the levels of freedom you get with EGS.
Here is the end result: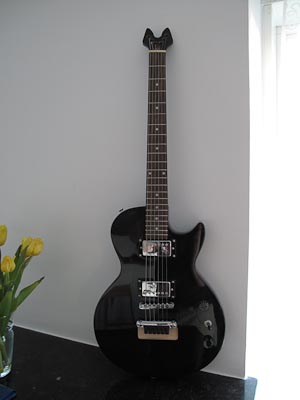 I began with the converted Tune-o-Matic tailpiece that I have shown earlier.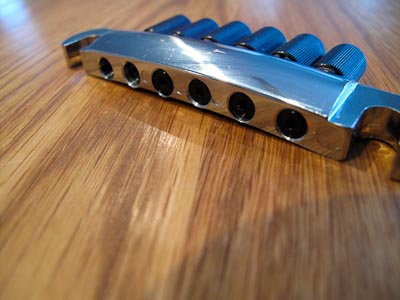 And a $100 guitar that was given to me as scrap.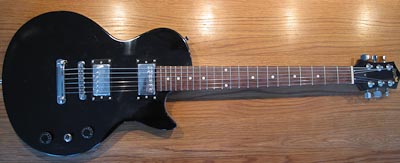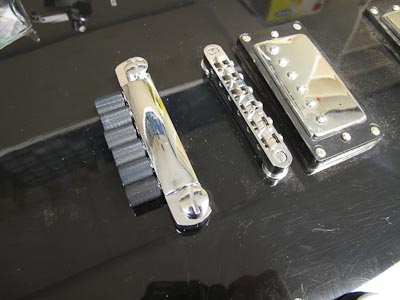 Here, I have routed a ditch behind the tuners to allow access for the fingers.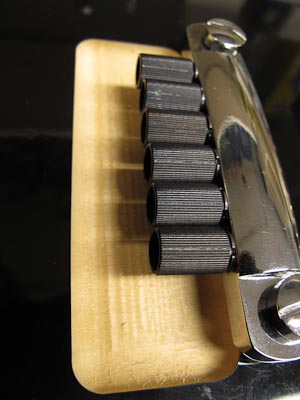 For the head, I decided on an adventurous design, again only to illustrate the flexibility of the EGS string locks.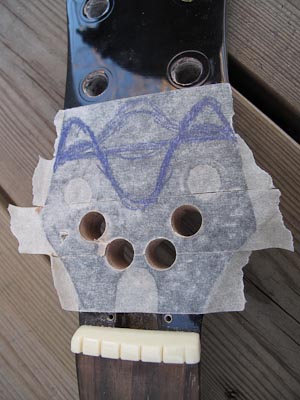 You lock the strings from the inside of the "V":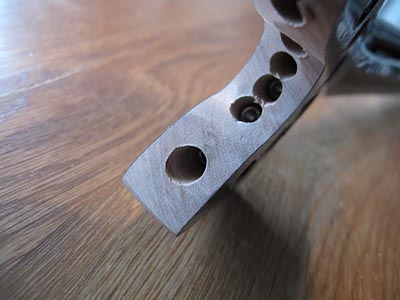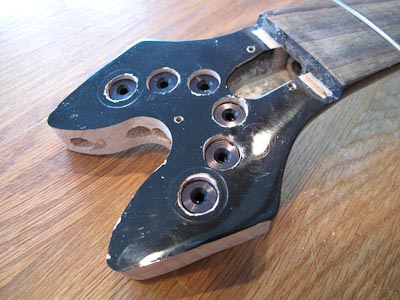 The end result again: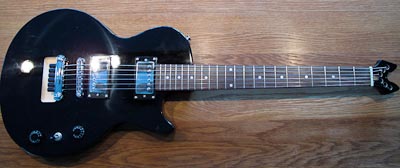 Now, I don't have the Tune-o-Matic available as a standard product. Please do contact me though if you have one that you would like to have converted. In the future, I may develop this concept further, but for now I will rely on standard parts.
June 5th, 2009
I am happy to say that I have a quantity of fixed bridge parts coming back from anodization any day now, so will be in a position to ship any orders placed quickly. This new batch has the new logo on the base plate, like the tremolo. I also still have a couple of the tremolo prototypes available for sale, both silver and black. Use the Products page for pricing and orders.
My plan is to put a live customer map up, but for now: here is a snapshot of the Strandberg Guitarworks EGS bridge customer distribution as of May 2009.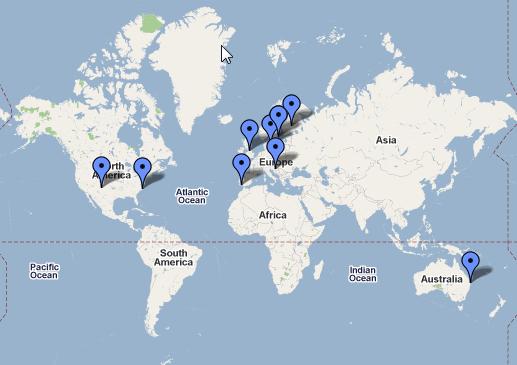 There are a lot of builds going on throughout the world and I am really looking forward to publishing the progress here in the near future. Feel free to make your mark on my map!