Here are some vital stats about the bass tuners: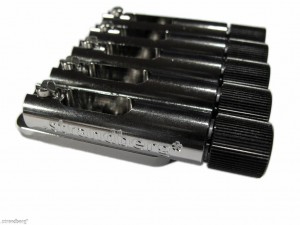 The diameter of the tuner housing itself is 15 mm, and the recommended minimum string spacing at the bridge is 16 mm.
Minimum string spacing with the string locks mounted in a straight line is 8 mm, although by shifting them, it is possible to get a tighter string spacing.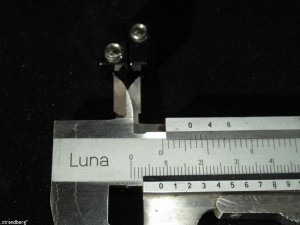 Minimum string height off face of instrument (although it is recommended that the bridges are recessed into the top in the desired radius to match the fingerboard) is 16 mm and the adjustment range is in excess of 5 mm.
Intonation adjustment is done by de-tuning the string, loosening the locking screw and then adjusting with the built-in adjustment screw, re-tightening the locking screw again and tuning to pitch. The intonation range is 11 mm as standard, although it can be extended by replacing the adjustment screw.
Maximum string diameter is 4 mm.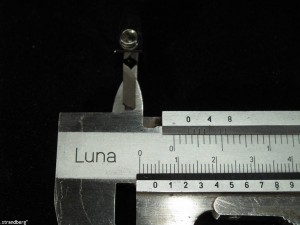 Weight for an individual unit, including string lock is 35 grams and below some comparisons are shown. For example, 35 grams is the same weight as a guitar tuner, a competing individual bridge unit weighs 63 grams and still requires a tuner. For a 6-string fanned fret bass that requires individual bridges, the weight saving will be almost a half kilo/pound assuming a fairly lightweight tuner.