EndurNeck(tm) Information Kit and License
To purchase and download the information kit for the EndurNeck(tm), go here
Ergonomic Guitar System
Guitar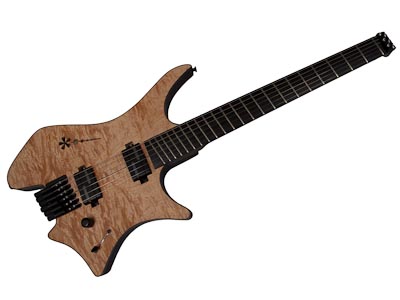 EGS guitars are hand-made to specifications with prices starting at 16,000 SEK (excl VAT). Contact us for more information.
Tremolo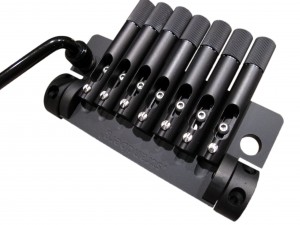 The EGS Pro tremolo is available in 6-, 7-, and 8-string versions made out of aircraft grade aluminium weighing in at only 180 grams, compared to the 410 grams of a Floyd-Rose. It is sold in a package including string locks, black tremolo arm, four springs and spring fastening claw. Prices start at 3,500 SEK (excl VAT).
Fixed Bridge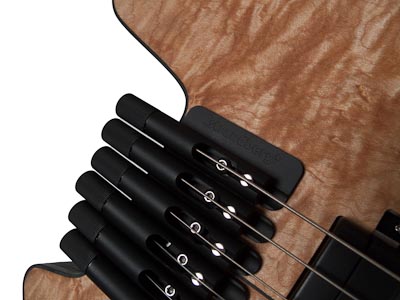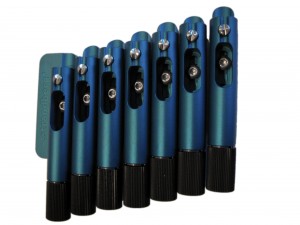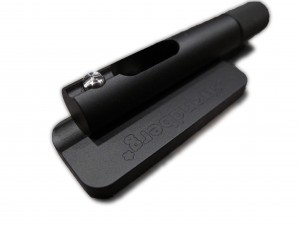 The EGS Fixed Bridge is made out of anodized aircraft grade aluminium and weighs in at a mere 72 grams for a complete six-string package. The fact that each tuner is self-contained not only enhances sound, but allows mixed-scale as well as 7- or 8-string deployments. To mount, route an 8×45 mm slot 1 mm deep into the top of the guitar. Each tuner is mounted with a screw inside the recess. Prices start at 400 SEK / string (excl VAT) including string lock.
String Lock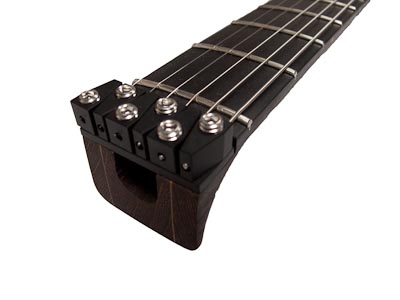 The EGS string locks allow compact mounting for any number of strings, as well as use for mixed scale (fanned fret) instruments. String locks are not sold separately, but are included in the price of the bridges.
Colors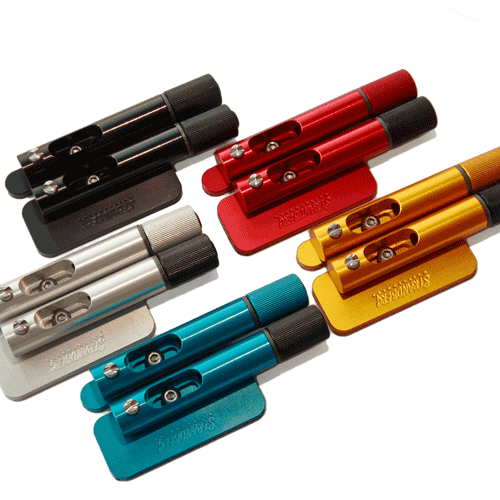 The EGS system is available in several colors. A sampling is displayed above. Black is normally kept in stock, and sometimes other colors as well. Custom colors are charged with 1000 SEK (excl VAT) / 24 tuners, i.e. you can partner up with a friend and order up to 4 sets of 6 tuners of any color, not counting any black parts. You have the choice of the same color knob or a black knob. Please specify when ordering, and don't forget to add the custom color option to the cart before checking out.
Orders
The EGS Fixed Bridge/Tuner is priced and sold per string and comes as standard in a package of one logo plate and the remaining tuners in the narrower version plate. The EGS Pro Tremolo includes string locks. String locks are the same color as the tuners, but for the tuner knobs, there is a standard option of the same color as the tuner or black.
To order, follow the link below. Please remember to also add the correct shipping to your shopping cart. VAT (Value Added Tax) is applicable if you live within the European Union and will be added automatically at checkout. If you live in Sweden, you always have to pay 25%, which is included in the price of the options that state "incl. VAT" below. If you live in the rest of the EU and is registered for VAT, you need to contact us and supply your VAT number to be invoiced. VAT does not apply for customers in other countries.
At Strandberg Guitarworks, we pride ourselves in being a very local business with global reach and having everything made in Sweden. To be able to maintain service and further the development of the EGS concept, we now price our products in Swedish Kronor.

For guitar orders, please visit http://strandbergguitars.com.

To purchase and pay using PayPal or any of the major credit cards, goto the purchase page.