I am happy to announce that I now have a small launch stock of the EGS (Ergonomic Guitar System) Fixed Bridge! I received quite a few positive comments at the guitar festival exhibition, which was fun to attend. Prior to the show, I had spent Wednesday until almost midnight at the shop that made the parts, to leave for the finishing shop 6 am on Thursday. The pieces were done on Friday at 9 am and I watched them being packed before going back home to assemble them around 10 am and then on to the show that started at 11…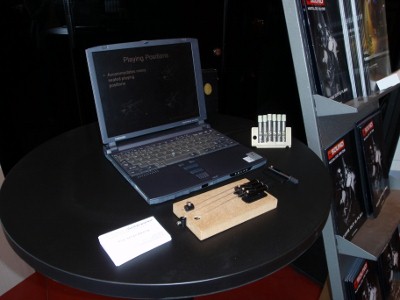 The booth. I had created a self-running presentation of ergonomic guitar design that was on display along with the mock-up bridge display that I had completed only hours before the show.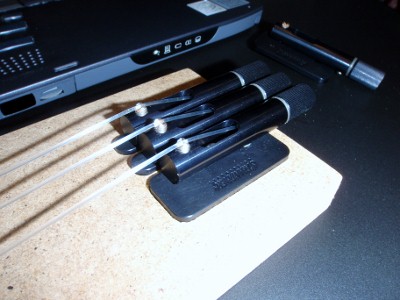 The mock-up showing the logo base mounting plate and the regular mounting plate. Yes, they are nylon strings, that I put in there only to save the mock-up from being broken by possibly rough handling.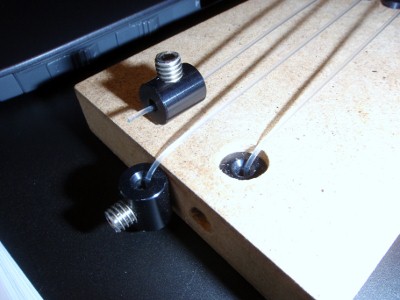 The string lock. This might require some explaining. the picture shows it mounted in three alternative positions. It can be mounted (from top to bottom) on top of a head, along the side of a head construction or inside holes, e.g. the existing mounting holes from tuners that have been removed. I have designed them to be 10 mm wide, meaning that they will fit into most tuner holes.
About the launch stock:
Only available in black. Planned colors are black, blue, red, gold, silver.
The rear end of the main housings have a slight "tremor" for lack of a better word in the finish. This will be corrected in future batches.
So I am now taking orders, finally. For now, please send me an e-mail to order. I will create a proper product page ASAP. Introductory price, considering the finish problem and the fact that I have not yet worked out proper packaging, etc. is €35/string. This includes the string lock and tuner/bridge. Each purchase comes as standard with a single logo mounting plate (18×45 mm) and the rest of the mounting plates 8×45 mm, i.e. a kit of 6 comes with 1 wide logo plate and 5 regular. I promise a generous (but tons of questions asked) warranty policy since it is a "1.0" product.
Watch this space for announcements about more color options and the availability of the Floyd-Rose drop-in replacement version.