I am in the process of building five EGS guitars, here are some details:
Guitar #1 – Alder Stratberger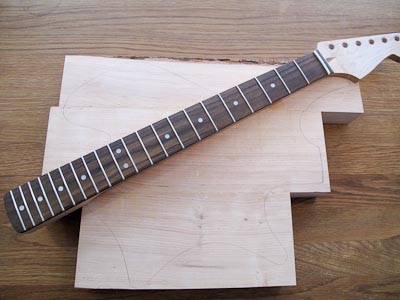 This will be made out of light-weight alder and be as close to a Strat as possible. Regular 25.5″ scale and tremolo – probably not with the pictured neck, but I might start off with this or a cut-off Jackson neck that I have just to save time. It will be quite a departure from what I normally do in that it will be painted (I'm thinking mint green or light blue) and have a pickguard. Electronics will be 3 Lace Alumitone single coils and a 5-position selector.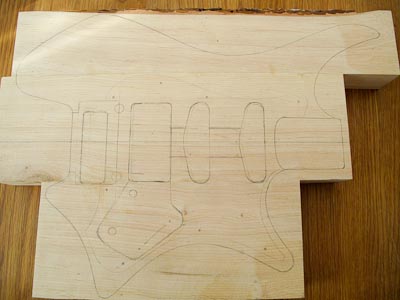 Here, I have marked up the cavities before routing.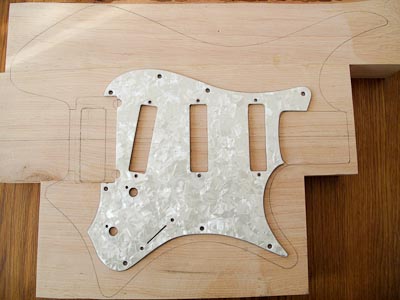 Trying out the pickguard. It's an actual Strat pickguard that I have modified.
Guitar #2 – Mahogany/Maple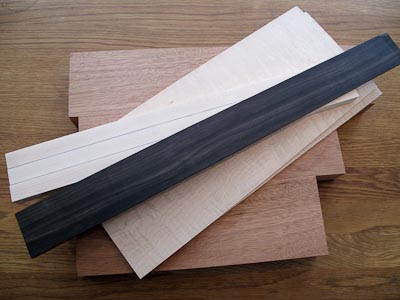 The next one will be identical to the first EGS prototype but with a Honduras mahogany back. This means a maple top and the same cavities cut out inside. The neck will be carbon fiber reinforced maple with ebony fretboard, fanned frets, scale 25.5″ – 24.75″ like the EGS prototype. 2 x Lace Alumitone black humbuckers.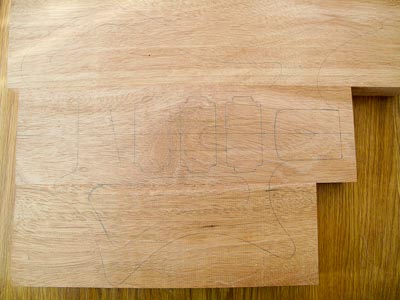 The blank marked up for routing.
Guitar #3 – Swamp Ash/Wenge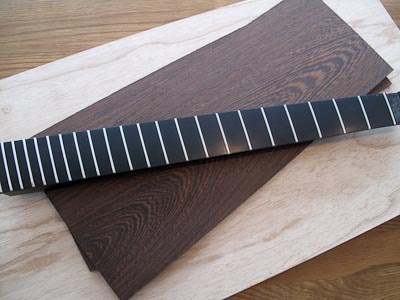 The third will again be identical to the EGS prototype, but this time with a wenge top (i.e. swamp ash back). I will use the Moses Graphite neck for this initially, again fanned frets 25.5″ – 24.75″ scale. 2 x Lace Alumitone black humbuckers.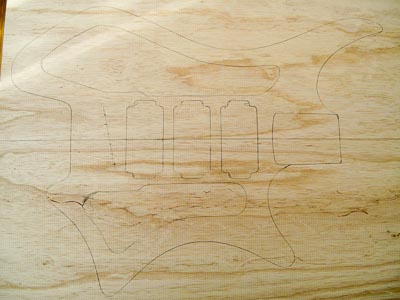 Blank marked up for routing.
Guitar #4 – 7-String Neck Through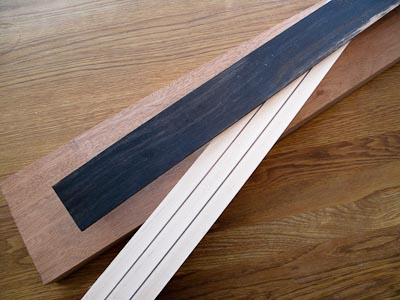 This will be a different beast. Neck-through body construction, carbon fiber reinforced maple. Honduras mahogany sides, ebony fretboard. Fanned frets 25.75″ – 24.75″ scale. Lace Aluma 90 pickups. I intend to try and hollow out the body sides from "within" before gluing them to the neck – quite an experiment.
Guitar #5 – 8-String Neck Through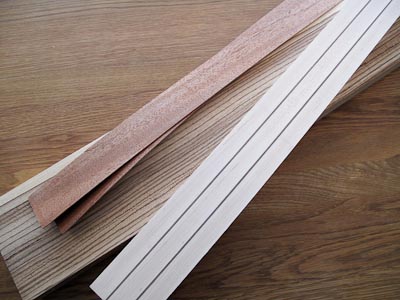 The idea for this came from discovering that I could actually cut an extra neck blank from the one for the 7-string. The only wood I had left laying around was some old zebrano, so that is what will be used. Again, it will have an ebony fretboard, that I had to order to get wide enough for 8 string. On other EGS guitars, the scale has the nut perpendicular to the length of the neck. On this, I will extend the scale on the bass side to allow the range to be extended somewhat. I have not yet decided quite what the scale will be, but I think 27″ – 25.5″. Pickups have not yet been decided. I will experiment with the Aluma 90s to see if they can accommodate the required string width. If not, I am thinking of Lace Tonebar (for pedal steel or bass). Again, I will try to hollow out the sides from within to make the construction lighter.