I have had a new tuner in the works for some time. The spark was the electric tri-kanta that I am collaborating with luthier Michele Benincaso on. We met again yesterday to discuss it and a new improved version of the string anchors described here.
The key points for the design are: compact mounting, low weight (there will be 36 of them on the tri-kanta), durability, cohesion with the current EGS designs and, last but not least, it should be able to retro-fit into existing instruments to improve ergonomics.
Here are some pictures of the first prototype: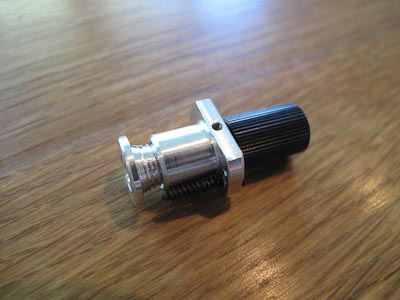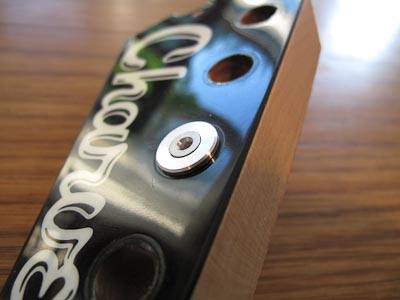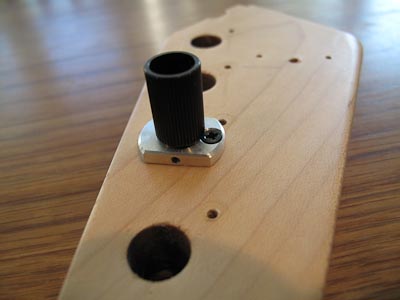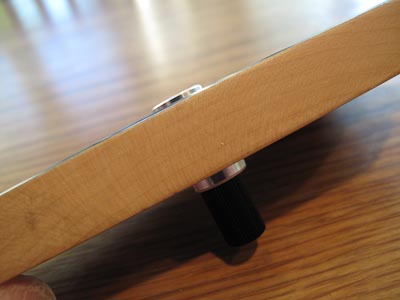 As you can see, it fits into a standard tuner hole. The difference here is that the tuner extends behind the headstock and does not rely on being mounted close to an edge. Additionally, with the low profile, the angle over the nut will be higher possibly eliminating the need for string trees or the use of an angled headstock. It uses the same parts as the current EGS bridges, so the investment in developing them can be leveraged.
The design issue that we discussed yesterday was how to tighten the assembly into the headstock. We do not want any risk of scratching the surface of the headstock in case of having to re-tighten it. Also, visually, we don't want a large irregular shape visible as would be the case with a hexagon nut like on a normal tuner. Also affecting the appearance and this part of the design is the need for a more durable and replaceable part for the string to slide against. All current parts of this type in the current EGS concept are made from stainless steel for looks and durability. With any type of assembly, there is the issue of how to bond it to the aluminium. We don't want any risk of this piece falling out on stage during a change of strings. Here is a prototype of a possible solution: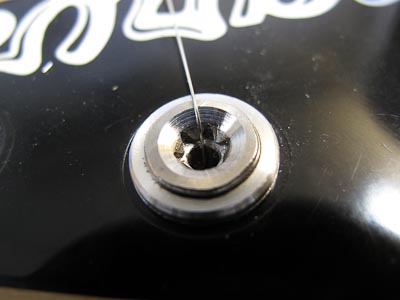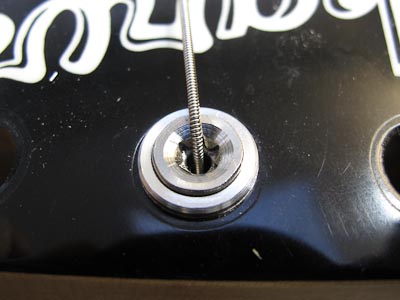 It is made from a stainless steel M5 screw with a recessed head and Torx grip. The remaining Torx grip after rounding the edges can be used to tighten the assembly and is easily replaced.
As always, comments on the design are welcome. The weight? 7 grams. Compared to 35 grams of a regular tuner I found. With a saving of 28 grams per tuner sitting mounted on a headstock 500 mm away from your center of gravity, this really adds up. Removing this weight from the headstock allows you to remove weight from the body and still get a well-balanced instrument. For Paolo and the tri-kanta, it's a saving of roughly a kilogram compared to normal tuners.