I have finally decided what to make of #6. As I am building it along with #5 (custom order by Chris Letchford), I will make this also a fanned fret 7-string, 25.75 – 25″ scales. But, it will have a trapezoidal neck profile (contact Rick Toone for more information about this neck profile) and the cavities in the body will be made differently. #5 will have cavities routed from above and a top glued onto it like my other EGS guitars. #6 will have cavities routed from the inside edges of the sides. I have never tried this in practice, so it somewhat of an experiment.
Here is the neck blank along with the sides for #5 roughly cut: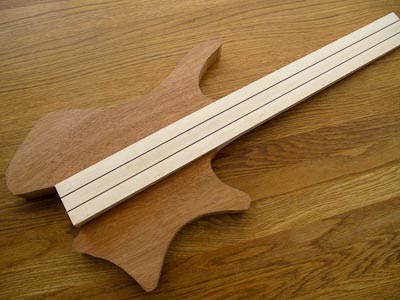 And the future #6: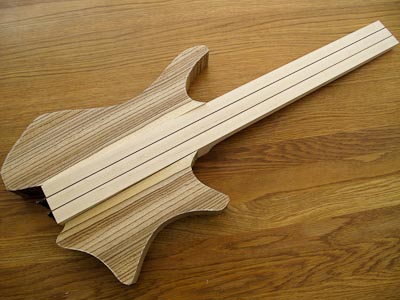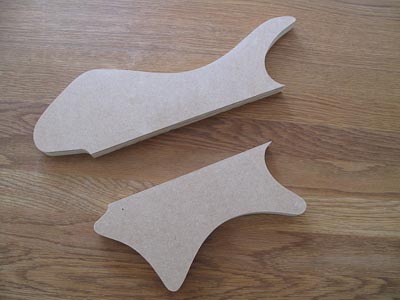 Some routing templates for these and future neck-through builds.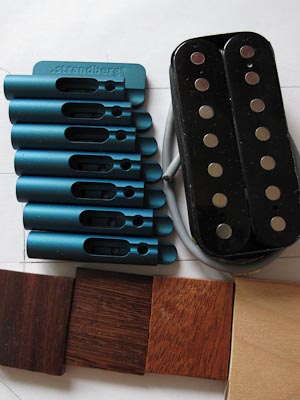 A swatch for #5 of: rosewood fretboard (that looked a little too purple at first, but better when oiled), wenge for the top, mahogany for the back, maple for the neck blank, custom colored blue hardware and Lundgren M7 pickups.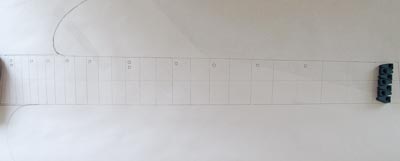 Last but not least, Chris has requested position markers placed off-center, so here is a suggestion.