It's been brewing for a long time, but I am thrilled to finally bring to you the EGS Pro Tremolo. This is based on a completely friction less needle bearing design – needles offering a much larger area of transfer of energy than both ball bearings and knife edges, and thereby better sonic properties. It is also much more durable than a knife edge, practically impossible to wear out. As all EGS hardware, it is extremely light-weight, and built on the proven EGS combined bridge/tuner/tailpieces, with complete tuning stability. The dimensions make it possible to use existing Floyd-Rose routing templates, and the dimensions are slightly larger than the footprint of an original Floyd-Rose, so that you can retrofit an EGS Pro tremolo into an existing Floyd-Rose recess. In addition, the EGS Pro tremolo is lefty friendly – simply mount the tremolo arm on the other side.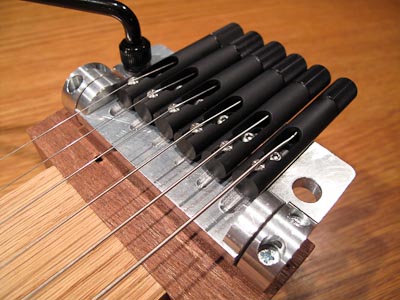 But I'm saving the best for last: the Dual Action. You can mount the tremolo in two different ways for two completely different feels and actions. What this means to you as a luthier is that you can stock the same tremolo for many different types of musicians. For you as a musician, you can tailor the behavior to suit your playing style.
Here is a short demonstration video:
The EGS Pro tremolo will be offered in 6-, 7-, and 8-string versions (Dual Action is available only on 6-string). Formal launch is expected at NAMM in Anaheim, CA on 13th of January, 2011!
It's been an exciting weekend in the shop. This is what happened: