The lucky owner of what will be #7 is Brandon Montgomery, owner and proprietor of custom tube amp maker Bludotone. Much like a .strandberg* guitar, Bludotone tube amps are custom built to specifications to exactly match the playing style and needs of the user.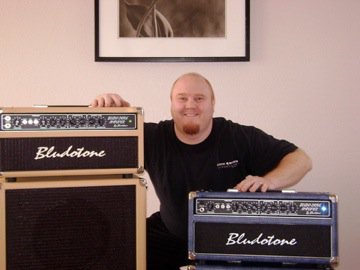 Brandon has been in the business since the dawn of time and has extensive experience as a guitar tech on his CV. With an impeccable ear for pickups, other electronics and materials – something that is much appreciated by his amp buyers – he can closely match the musician, the instrument, and the amp.
Draft specs at the time of writing are:
7-string EGS Pro, 26″ – 25″ mixed scale
Black Limba (Korina) / maple / carbon fiber laminated neck-through body construction
Black Limba (Korina) body wings
Flamed Maple top
Ebony fingerboard
Evo Gold jumbo frets
Custom Lundgren pickups
3-position pickup selector + 2 x series/split/parallel switches
Also of note is that Brandon has carefully calculated the string tensions and designed a custom set of strings that along with the scale lengths will provide great balance in tone and feel.