Here's the deal: Misha LOVES everything about #15, except the way that the bass strings respond on the bridge pickup. He really needs a very particular, tight, sound from it. So, meet #23. I am moving Misha's hardware and neck onto this build, along with slanted custom Bare Knuckle Aftermaths. I picked #15 up in Stockholm and plan to ship #23 to coincide with Misha's Wembley gig in London.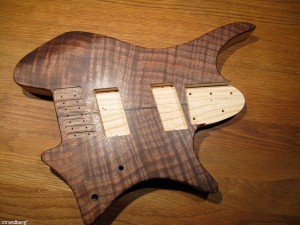 This means that #15 will be for sale, with a new neck. You will have a choice of neck materials and shape – scale length will be 25.75″-24.75″. Pickups are Lundgren M7s, master volume, 3-position pickup selector.
Individuals already on the wait list will have priority, and will have to give up their position on the wait list when completing the purchase. Exact pricing will depend on neck options – contact me with your preferences and forgive me if it takes a few days to respond.