I am designing a new gig-bag, taking into account my own thoughts from having traveled by air, land and sea, as well as commuted on bicycles and trains with my prototype.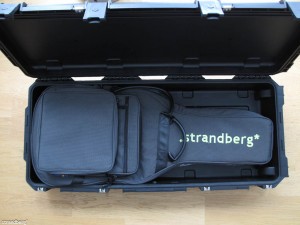 The image above shows the prototype, which is a conventionally shaped bag, just 100 mm shortened in the neck portion. One thing that I like in particular is the laptop pocket and "fully loaded" organizer pocket in front. I have biked to the day job as well as gone on business trips with laptop, iPad and all other necessities in this bag alone. In addition, the shoulder straps are comfortable and can be fixed to the back of the bag with velcro strips, which are cleverly hidden when not in use.
The one thing I noticed is that when I ride my bike (and I do most of the time, and I wear a helmet too) the bag hits me at the back of the head, especially when wearing a helmet. Also, when the bag is squeezed into its waterproof SKB shell as in the picture above, the remaining space could be used more efficiently. The new design addresses both of these issues: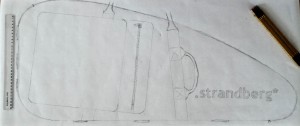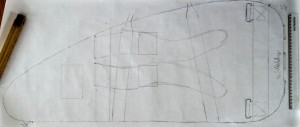 As you can see, the bag is asymmetrically shaped, as some hard cases are. It comes with rubber feet on both the side and the bottom, so you can rest it on the floor without having to "jerk" it or use both hands to get it into an upright position when it needs to be put down. This also leads to a larger available space in the SKB shell. Lastly, when worn on the back, the neck portion will not hit the back of the head (is the idea). Remember that a typical .strandberg* guitar weighs only 2 kg (4 lbs), so the fact that it is not symmetrically placed should not be that much of an issue.
Comments are welcome if they are quick – the order will be placed in a matter of days.