I handed in my resignation at the day job a couple of days ago, so here starts the next phase of Strandberg Guitars! As I'm writing this, I just arrived in Anaheim, where I'm exhibiting at the NAMM Show for the fifth consecutive year. A lot has happened the past seven years, since the original idea for what is now .strandberg* was hatched. What allowed me to confidently make the decision to leave the security of my well paid (and even fun!) day job was that there is now a sustainable and well functioning organization and delivery capacity, which has been built the past several years. In particular, I'm very happy to finally present the Swedish contingent.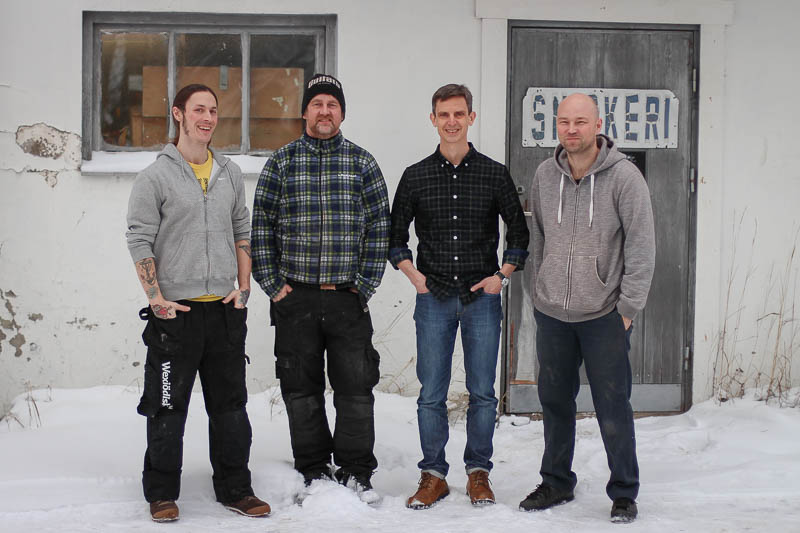 From left to right:
Erik is with us temporarily as an apprentice, taking a break from touring life with his band Casablanca, previously having toured with Bullit and supporting the likes of major Swedish artist Dregen on the road.
Besides having a degree in music from Ingesund/Arvika and being an amazing bass player, Pelle has made his living repairing guitars and building guitars by hand for more than 10 years.
Yours truly, Ola. I started building guitars in 1982 after reading an article in Guitar Player Magazine about the process of Allan Holdsworth getting prototypes made by Grover Jackson. It dawned on me that "I could do that". [Editor's note: it is mind-boggling to now have built a guitar for Allan Holdsworth more than 30 years later!] The current incarnation of the business was founded in 2007, and you can read all about it by following the older blog posts on this site.
Leif and I met on the Frankfurt subway, returning back from Musikmesse 2013. The "Swedish way" of behaving on public transport is to stay as far away as possible from anyone else, so the odds of two Swedes happening to cross paths and opening up a conversation in a city like Frankfurt are pretty slim. For some reason, we did, and for the past year or so, we have been training, planning, and refining processes. And it's not enough that it was two Swedes opening up a conversation, I would also argue that these two Swedes make up a very high percentage of the population with the particular skill set required for guitar production, with Leif having a background with major guitar brands and implementing and supporting advanced CNC production.
There are now three paths to getting a .strandberg*:
Made to Measure – one-on-one conversation with me to create your unique specifications, based on ergonomics and sound. Your guitar is built 100% in Sweden by me and the team, is prominently engraved with the build number, and you receive a personalized Certificate of Authenticity, signed by me. Getting a Made to Measure guitar is subject to wait list and the specification process is done on-line and via e-mail.
US Custom Shop – within the limits of pre-defined overall specifications, such as scale length, you can choose materials, finish and pickups, to adapt the sonic characteristics to your needs. The specs for the available models are taken from the Made-to-Measure guitars of amazing players such as Tosin Abasi and Misha Mansoor. In particular, our Signature Models feature the specifications of Chris Letchford, Paul Masvidal and Per Nilsson. Your guitar is built 100% in the US by the Washburn Custom Shop at US Music, and you receive a (personalized if you purchase directly from our web shop) Certificate of Authenticity. Specification and purchase is easy through our website, and current wait time is 2-3 months.
Production – the new Boden OS line premiers with the 7-string version at this year's NAMM Show. The Boden OS 6 will be available in the coming months. These guitars are built to fixed specifications by World Musical Instruments in Korea. QC inspection and setup is done in the US by Strandberg trained personnel. When you purchase from our web shop, they normally ship within a week, as long as they are in stock. Boden OS guitars will also be available through dealers going forward.
Getting to this point has been quite a journey and an evolution over several iterations. I have been contemplating writing a blog post trying to detail the challenges of making guitar building into a business, but am not sure of much of a general interest it would be (let me know if you want to hear about it). Furthermore, it seems that as soon as I think I have overcome my challenges, a new one appears, so such an article would be both very personal and probably outdated by the time it appears! Some of it is described in a lecture I did at Parsons the New School for Design last year.
Guitar making is not rocket science. I would argue that it is actually more complex in many ways, the two big reasons being:
You are trying to meet a very subjectively and emotionally formulated customer need – it is simply not possible to quantify the exact properties you want and then prove that you delivered them.
You are working with raw materials (most of us, at least) that are alive and in a constant flux. Even two boards out of the same log will result in instruments with different properties – which will also vary over time!
Many are very successful in navigating the two issues above by being passionate, empathic, understanding music and tone, and applying good craftsmanship. But when scaling it up, there are numerous issues that meet every small business owner, such as just responding to e-mail, keeping up on social media, monitoring finances and administration, packing and shipping, and much more that comes with success. Prioritizing these matters is rarely intuitive, but something that requires experience and (repeated) recovery from failures. Ideally, one can utilize the experience of others and learn more quickly. I recently learned that a well respected guitar brand that I have been looking up to has been making hundreds of thousands of dollars in losses annually for many years and risks being retired completely, so I wouldn't say there are many encouraging examples.
Building my capacity in the USA and Korea is a direct consequence of this: it is there that I have found the needed experience and competence. What makes the Washburn Custom Shop and World Musical Instruments fairly unique in this business is that they have experience with innovation and pushing the envelope, an open mind, but more importantly: they have a leadership that understands that making musical instruments is about making music in the end, and not about assembling pieces of wood and attaching strings in an attractive package. I honestly did not expect to find this in Sweden, so bumping into Leif was an amazing coincidence, and I can now with confidence say that we are building a solid operation also in Sweden.
We look forward to supplying your next guitar!