NOTE: we are no longer able to offer licenses to use designs under Creative Commons. This page remains for historical purposes only. For up-to-date information, please visit strandbergguitars.com.

More and more of you guitar builders out there are asking for permission to use my designs, which is encouraging. More and more completed builds are also starting to surface on YouTube, on forums, and even as commercially available guitars. And most of you handle the intellectual property side of things well.
Starting July 2013, my designs are licensed under a Creative Commons Attribution Non-Commercial Share Alike license. "Attribution" means that you have to state that you are using the design with permission from me, and (at least) provide a link to my website. "Non-Commercial" means that this applies only for self-builds. You are not allowed to use it for commercial purposes. (Historically, the license did not include this restriction, but unfortunately, I had to impose it in order to keep the trademark situation under control.) "Share Alike" means that you have to make your own enhancements/modifications available under the same license, so your website/YouTube video description/forum post should clearly state that others may use your modified design.
For more information, visit the Creative Commons site and you will get a page like this: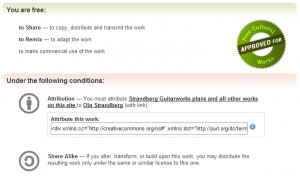 The guitar shape that is available under Creative Commons is called "Boden", and it, along with the .strandberg* EGS bridge system, are components of the Ergonomic Guitar System. So when you use these designs and write about your guitar on Facebook, YouTube, or in other forums, you should write something like this:
This is my version of a Strandberg Boden guitar, designed by Ola Strandberg, available under a Creative Commons Attribution-Noncommercial-Share Alike license. It features an original .strandberg* EGS bridge (assuming that it does), and <list your specifications here>. My modifications to the original design are <list your modifications here> and these are free for you to use under the same license, please contact me <i.e. you, since it is you who are writing this> if you have any questions.
For a lengthier description on how to do attribution, please see this blog entry by Molly Kleinman
.strandberg* is a registered trademark owned by Strandberg Guitars AB. You should never use this except when referring to the guitars that are in fact built featuring this brand. When you are referring to them, you should always use it though.
Other trademarks owned by Strandberg Guitars AB are EndurNeck, GrooveNeck, Ergonomic Guitar System, and EGS. If you ever feel the need to refer to these names, you must also state that they are trademarks belonging to Strandberg Guitars AB. EndurNeck is patent pending so is subject to a separate license agreement and is not licensed under Creative Commons.
Thanks in advance for respecting these rules and for contributing to the ergonomic guitar community!